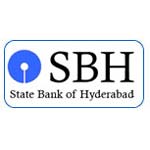 There are 46 Management Executive
Vacancies
in State Bank of Hyderabad under special recruitment drive for SC/ ST/ OBC.
Apply from
16 Dec to 3 Jan 2014.
Post Name
: Management Executives
Vacancies:
46 (SC-14, ST-7, OBC-25 )
Qualification:
Regular full time PG Degree/ Diploma in Business Admin/ Mgmt / Marketing/ Finance/ International Business, Operations Mgmt/ Systems/ HR.
OR
,
M.Com/ M.A. / M.Sc. (Statistics or Economics)
OR
CA / CFA/ CWA/ CS (Company Secretary).
SC / ST / PWD – Rs. 100/-

OBC – Rs. 500/-
How To Apply
: C
andidates who are eligible as per the conditions above can
apply online
t
hrough SBI webste link given below & within the dates mentioned above.